Foundation Repair: Don't Be Hasty
Over the past few years, I've run in to this situation: a homeowner, usually at the urging of a contractor, has their foundation "beefed up" or replaced in order to make their home safer for an earthquake.
Historically, foundations, even brick ones, don't fail in a serious earthquake: homes are usually damaged because they fall off their foundation due to an inadequate or non-existing retrofit – usually a lack of shear panel, bolts holding the mud sills in place, or transfer ties to keep the floor joists from sliding. Except in rare cases, your money (and less of it!) is better spent on a retrofit than a new foundation.
For those who haven't yet had an automatic gas shutoff valve installed, a reminder that we have two plumbers who do these on Saturdays only. We have now installed almost 4,000 valves over the past 15 years, and our price of $275 for a standard install in the east bay is the best I've seen (slightly higher in other places).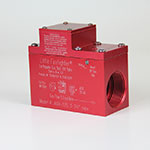 Be safe.
Larry Guillot QuakePrepare.com 510-292-6571 larry@quakeprepare.com