You May Have Forgotten These:
1, If your automatic gas shutoff valve activates, you don't have to call PG&E to turn it back on. If you've forgotten how, email me and I'll send you the "how to" directions.

2. Store your 2 weeks of food inside, not outside. Your 55 gallon water barrel goes outside.

3. Secure your fridge. They hardly ever fall in a big quake, but they move a lot and can be damaged.

You have an automatic gas shutoff valve, right?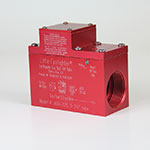 What about your neighbors, family, friends, or business associates? We've installed over 4,200 of them in the past 16 years. Our price is still the best: $275 in the East Bay, a little higher elsewhere.

Be safe.

Larry Guillot
QuakePrepare.com 510-292-6571
email: larry@quakeprepare.com